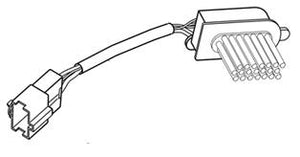 Mk2 45/ZS ATC Transistor Pack Repair Kit / Repair Service / Exchange - JGN000010 / Diavia 133000/3 and 133000/2
Repair kits in stock. 
For our repair service please email sales@dmgrs.co.uk. 
Need a complete replacement? Click here!
We've all heard of the problems with the Mk2 45/ZS ATC transistor packs - if you're reading this the chances are you're faced with the task of finding a new unit or having yours repaired. 
Please note - failure is usually due to the Heater Blower Motor starting to seize or worn brushes within the motor. You can find brand new Heater Blower Motors here: Heater Blower Fan Assembly - JGC100140
The transistor pack can usually be repaired - it's the MOSFET transistors that usually fail. Luckily they're much cheaper than a new full unit!
The MOSFETs supplied are highly-rated automotive specification units, designed to last and handle more power than the original part. 
Unfortunately the IC controlling the transistor pack can also fail - if this is the case you'll need a new pack or it'll need extensive reworking. The general consensus is that the transistors are usually the point of failure, meaning attempting a repair is usually very much worthwhile as a first port of call. 
We cannot offer refunds if a repair doesn't fix the transistor pack - this service is to be used on the understanding there is a small chance the repair may not be successful.
If this doesn't fix yours or you would like us to repair / exchange your unit for another we have rebuilt - please email sales@dmgrs.co.uk for details. 
Prices for more extensive repair start at £40 (basic work) up to £70 (if multiple components need replacing due to liquid ingress etc). 
Exchange price is subject to a deposit for the return of your old pack and subject to stock - the price for this service is £125. 
We've repaired and exchanged a lot of these, and not just for MG Rover vehicles - the same pack (with different wiring, which we can swap over) is used on several Ferrari and Pagani models. 
If you're lucky enough to own one of these cars using the Diavia 133000/2 or 133000/3 transistor pack, we can help you too and the cost is the same as above. 

If you opt for a repair, there is a chance repair won't be possible in which case a small charge will be made for our time. If this is the case we'll email you regarding options for an exchange unit. 
If the pack returned for exchange is extensively water damaged or otherwise in very poor condition we'll be unable to use it for rebuild - the exchange deposit will be reduced accordingly (as there are some parts we'll likely be able to salvage) 
---
We Also Recommend