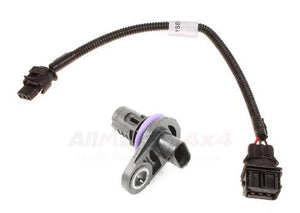 Rover K Series and KV6 Camshaft Sensor - NSC000310 / NSC100610 / YSB002450 / YSB002390. Old part number NSC100930 - Genuine Lemark
£22.08

£22.08

Save £41.12
---
---
In stock. 
KV6 Link Lead due in stock end of October. 
This item fits ALL mems 3 K Series (apart from VVC) and KV6 applications - this is a kit including the Link Lead and correct Camshaft Position Sensor if selected from the drop down menu. The title price of £29.99 is for a sensor on its own.
Use the drop down menu to select which engine you have - the sensor is the same for all models, but the link leads are different.

Originally the Camshaft Sensor came with the lead attached - however all replacements in recent years have the sensor and lead supplied as 2 items. If your car has had a new sensor at some point, the chances are you'll already have the Link Lead needed - so only need to purchase the sensor (NSC000310 / NSC100610)
Original part number NSC100930. 
If you have a VVC engine, you need part number NSC000010 - please see our other items. 
Fitment
All K Series (apart from VVC) and KV6 engines

Manufacturer
Genuine Lemark

Notes
Use the drop down menu to select the option you need.
Does not fit VVC engines. 
Stock location
AA5
---
We Also Recommend