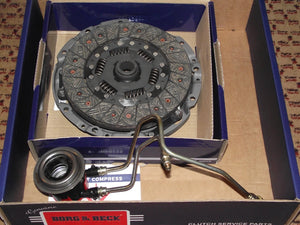 Rover 75 / ZT V6 2.0 / 2.5 / 1.8T Clutch Kit - with OEM-Q, Magneti or Metal Slave (3pc) RP1068 & UUB100193 (Also fits MG ZT 1.8T and 2.5 V6)
£166.66

£166.66

Save £16.67
---
---
In stock.
This kit contains a 2 piece clutch with a slave cylinder of your choice from the drop down menu.
The clutch included uses an AP clutch cover combined with our OEM-Q friction disc - the AP clutch cover is original MG Rover factory stock, and our friction disc is a top-quality item designed to outperform the original part. 
This kit is recommended by many enthusiasts across the various MG Rover forums, as it only contains top quality components to last many years. 
The original clutch as fitted by MG Rover didn't have any springs in the driven plate, meaning additional strain on the DMF and even occasional failure due to the rough take-up.
The custom Friction Disc is fully sprung, and will more than likely outlive the car they're fitted to. You can tell just by looking at them that they're built to last! Please be advised, the slave cylinder's pipework is slightly longer than the original item, but it will fit absolutely fine
12 month warranty with this item.
A truly fit-and-forget kit, this 3 piece clutch kit is sure to give years of reliable service.
 Fitment

Rover 75 - Manual 2.0 KV6, Manual 2.5 KV6, 1.8 Turbo
MG ZT - Manual 2.0 KV6, Manual 2.5 KV6, 1.8 Turbo

Manufacturer
Genuine AP Pressure Plate
DMGRS OEM-Q Friction Disc 
Notes


Stock location
HA4
---
We Also Recommend