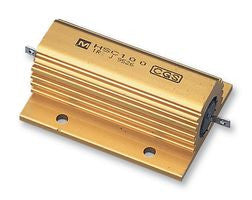 Rover 75 / MG ZT Gold Resistor - 2 Speed Fan Upgrade. Repairs PGJ000110
If you have a 2 Speed fan (look for a silver resistor at the 2 o'clock position of your radiator fan) and the low speed doesn't work, this item will fix it.
To test if your low speed functions, press the 'demist' button to activate your A/C, and check the fan for operation. If it doesn't move, this kit should rectify the fault.
This kit is for the bare resistor only - you'll need to mount it to the position of the silver fan, and solder the connecting wires. 
---
We Also Recommend