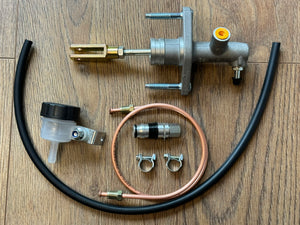 Rover 45 / MG ZS Metal Clutch Master Cylinder Kit - Replaces STC100040 / STC100050 / STC000260
In stock. 
This is a Metal Master Cylinder Kit for all Rover 400, 45 and MG ZS models - designed as a drop-in replacement for the troublesome plastic clutch hydraulics fitted as standard. 
This will fit all engine variants and years, along with both RHD and LHD cars. 
Includes everything needed to fit and comprehensive fitting instructions. 
Fitting is designed to be simple with only basic tools needed. 
The best part? This kit is well under the RRP of the standard plastic item!
We've tried and tested this kit on our fleet, and the difference is night and day. 
The metal master cylinder doesn't flex in position like the original, giving a crisp and firm pedal action. 
You will need DOT 4 brake fluid when fitting this item (usually around 300ml - 500ml when bleeding the system during fitment) - you can add this via the drop-down menu if required.  
---
We Also Recommend