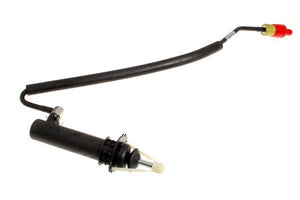 Slave Cylinder - Rover 45/MG ZS - UUB000040 (Fits 1.4, 1.6 (IB5 Gearbox), 1.8, TD and 180)
£45.83

£45.83

Save £12.50
---
---
In stock.
Please read the description before buying this item - this is for the Slave Cylinder supplied with no pipework. You need to fit your existing pipework and fill the Slave Cylinder with fluid before fitting.
This will take 30 minutes tops - for a saving of over £50 on the 180! Plus you know the system will be free of air, which can be a problem when replacing just the master or the slave. 
This item also fits the MG ZS Diesels and the Rover 45 Diesels.
Fancy an upgraded system that will replace all of the plastic OE components? We have the 'Sheddist' kits in stock! Click here.
Guide to fitting this item to your ZS 180 / TD:
The easiest way to bleed your new Slave Cylinder and prep for use is to submerge it in a container of brake fluid - the bottom half of a 4 pint plastic milk bottle is perfect. Pump the piston a few times while making sure the connection point is at the top of the cylinder to expel any bubbles of air, and you're done. Leave the connection point submerged while you do the next steps.
2. Remove the faulty slave from it's mounting bracket
3. Remove the split pin on the slave, and use a centre punch or small allen/torx (etc) bit to knock the roll pin securing the pipe to the slave
4. Disconnect the Slave by removing the pipe, it should just pop off.
5. Make sure you have some fresh brake fluid to hand, and get your assistant to push the clutch pedal to the floor. Once the pedal is on the floor, cover the open end of the slave pipe with your thumb (wear gloves!) and re-raise the pedal. This will draw new fluid from the reservoir into the Master.
6. Rinse and repeat, topping up with new fluid as you go along. When the fluid runs clear, you're done.
7. Get the rubber O ring supplied with this Slave, and (making sure the old one isn't still there!) put it on the end of the slave cylinder pipe. Then connect the new slave to the pipe as quickly as you can, taking care not to get brake fluid on your paintwork.
8. Replace the roll pin and split pin, fit the slave as normal and you're done. 
List price: ~£70
---
We Also Recommend