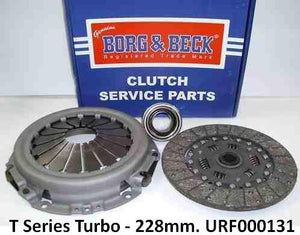 T Series Turbo 228mm Clutch Kit - URF000131. Fits Rover 220 Turbo / 420 Turbo / 620ti / 820 Turbo Vitesse
This item is always carried in stock for same-day dispatch. 
This is identical to the Borg & Beck L Series Clutch Kit - it also fits the T Series Turbo (228mm) equipped Rovers perfectly, with a slight increase in capacity over the original clutch. These will take 250lb/ft safely, however have been used in tuned L Series equipped cars with around 270lb/ft with no issues. 
This is a 3 piece kit comprising of friction plate, clutch cover and release bearing.
This item comes with a 2 year warranty.
List price: ~£120
---
We Also Recommend