Got boost? The Rover 620ti - Why the ultimate sleeper is more of a bargain than ever!
Posted by Mat Price on
As I pottered around in my Rover 400 diesel, I began to wonder about owning one of the quicker Rovers out there.
I'd often dreamily looked at the ZT190 and Rover 820 Vitesse, however insurance and running costs had always proven a little too much. I'd also noticed the 620ti, however skipped over them rather quickly due to similar issues to the above combined with less interior equipment than an 820, and dated looks compared to a ZT190.
This all changed when I noticed the ever-famous MG John advertising a lovely 620ti in Nightfire Red for sale. It was priced well for it's age and mileage (100k, 1999 so one of the last) and the condition of the vehicle was fantastic given it was over 10 years old. Despite being over 150 miles away, I spoke to John and agreed to view the vehicle on a sunny evening after work.
At exactly 4:30:00 (finger hovering over the 'log out' button!) I dived into the trusty 400 to start the 155-mile trek to sunny Gloucester, land of cheese and Dr Foster. A few hours later I was greeted with an ever-smiling John, and shown around the vehicle. Exactly as described, in lovely condition, and freshly cleaned inside and out. I was impressed, to say the least! John took me out for a good drive in the 620ti, and upon feeling that T16 Turbo pull followed by the 'tssshhh' of the Forge dump-valve I knew this was practically a done deal.
One of the advert pictures: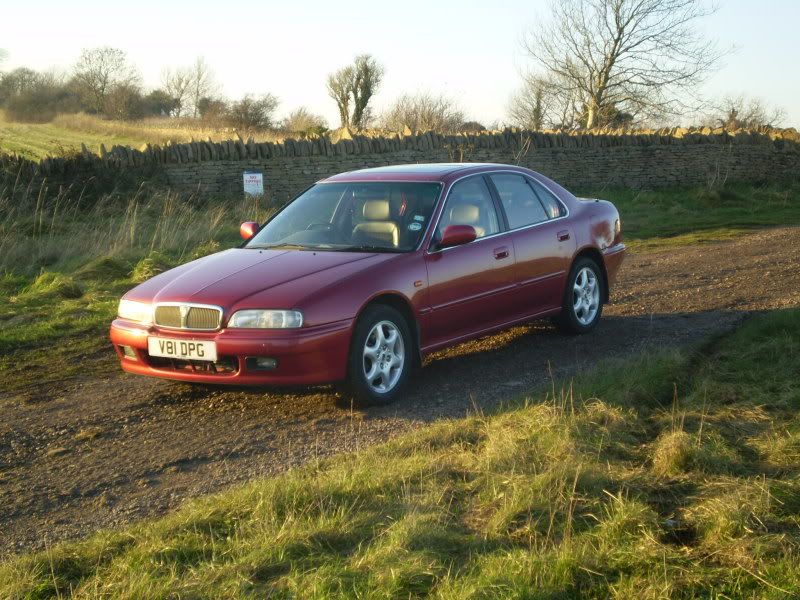 I agreed a deposit to secure the car, and agreed to return the coming Saturday to pick her up. I was like a child on Christmas Eve - it's safe to say work performance suffered a little due to the 'excitement factor' of owning my first rather powerful car.
Picking the car up turned out to be a little bit different than I'd imagined - the Saturday I collected the car happened to be the hottest day of the year (June) and temperatures nudged a sweltering 30 degrees in the shade. Furthermore, a combination of my friend's Proton Compact with no air conditioning and a very heat-intolerant me (I'm a true Brit - I own several cardigans and thrive on a diet of real ale and bar snacks) meant I was very pleased to be hopping into a car with working air conditioning.
After the usual paperwork and a good chat with John I was on my way home, and I could only smile at how comfortable yet sporty the 620ti felt, while a torrent of ice-cold air cooled the cabin to Arctic levels. Perfect! My joy was short-lived, as my enthusiastic 'testing' of the new vehicle on local roads meant I disposed of around 10 litres of fuel in 50 miles. After filling up (and finding out how large the 600's fuel tank is) I was a little more conservative, however discovered that driven carefully a 620ti is infact capable of very good economy. I averaged around 32MPG on the long motorway journey home.
Perfect start... expensive down the line!
I still very much feel like this car gave me a good 'trial' when starting ownership, and then unleashed some of the true perils of owning an older, more powerful car once I'd gotten used to the 30MPG fuel economy.
First of all, I decided to test the car's ability around a local National Park (Rivington, Bolton - fantastic roads if you're in the area). Nothing too excessive - I went around 9PM at night to avoid other traffic and really enjoyed how effortlessly the T Series Turbo engine picks up from 2,000RPM right to the red line. Set off... 2,000RPM... boost... red line... TSSSH... change and repeat!
I'd just set off to go home, when I went for a rather spirited shift into 2nd gear to be met with the clutch pedal hitting the floor and not returning. A quick check under the car revealed a lovely pool of clutch fluid was forming... stereotypical clutch slave failure, or so I thought. No worries - RAC called, car recovered, off home I went.
It was when my step-dad and granddad were reviewing the fault that the true nature of the failure became apparent - I had in fact sheared the clutch release arm at the point where the pivoting arm meets the shaft entering the gearbox. As impressive as this sounds, finding another was not only difficult but also inconvenient - explaining to my fellow MG-Rover.org forum members why my car wasn't at MG Live! and I was in a Proton was rather embarrassing.
The damage:
At the time, it was the first failure of this sort that was known among the community. Since I published my story on MG-Rover.org all that time ago, only 1 or 2 other cases have been reported. The problem was a weld may fix it, however it'll always be a weak point and I'd rather have a 'proper job' done. I sourced a part that fitted designed for the Lotus Elise (with integrated grease nipple to avoid seizing release arms) and set about collecting tools to perform the rather large operation to fix the car.
It's worthy of note at this time I'd only changed brake pads, and had very little mechanical experience. I found a Haynes manual on eBay for £5, had a run through the procedure and located the necessary tools, and ordered the parts I'd need (clutch assembly, driveshaft oil seals, new CV boots, release arm and a good selection of penetrating oils and greases).
I'd planned to follow my parents down to Cornwall for their annual holiday (conveniently enough the 620ti had broken down on the first day of my 2 weeks off), however I opted to stay behind and use the first week of the holidays to repair the car. It was only when waving my parents off I realised that when I saw them again, I'd have done my first clutch change! After a couple of days, all of the parts I'd ordered arrived and I started to take the 620ti apart.
Luckily, I kept my old Rover 400 as I just hadn't got around to selling it just yet. To say it was useful for picking up tools etc is a massive understatement!
I found the following needed attention:
Front subframe had lots of surface corrosion
Brake discs were badly worn, pads also worn
Several ball joint covers were damaged
Plus, of course, the reason I had it all apart in the first place. The clutch. Oh well, too late to turn back now. So with the radio on and a good complement of tools... I began.
Not a hard job, but time-consuming
The above sentence sums up my feelings of the whole experience. While no part of it was too difficult, certain parts of the job took a lot of time to complete (cleaning out the CV joints ready for fresh grease, working out stiff bolts, fitting new brake discs as they're mounted behind the hub). Overall I spent about 5 days on the work, consumer rather a lot of beer (very hot weather) and an inordinate amount of ice lollies!
Some pictures of the work in progress: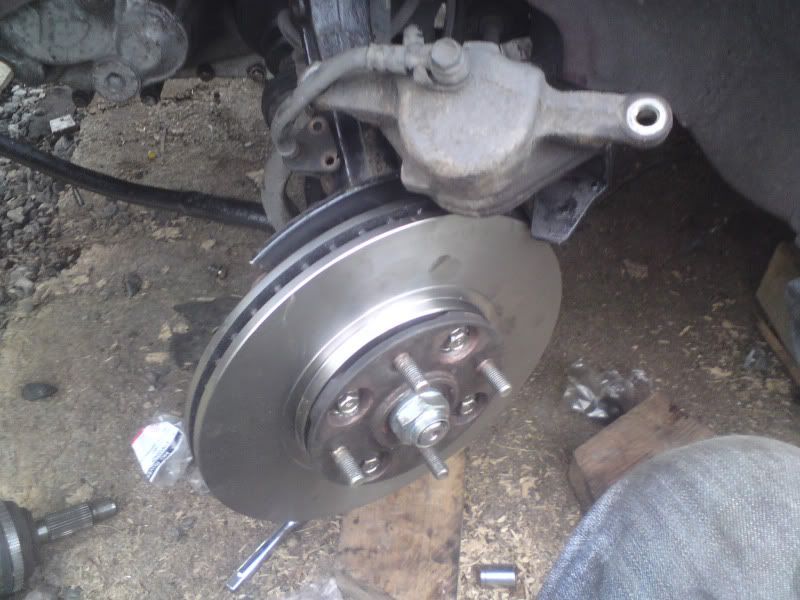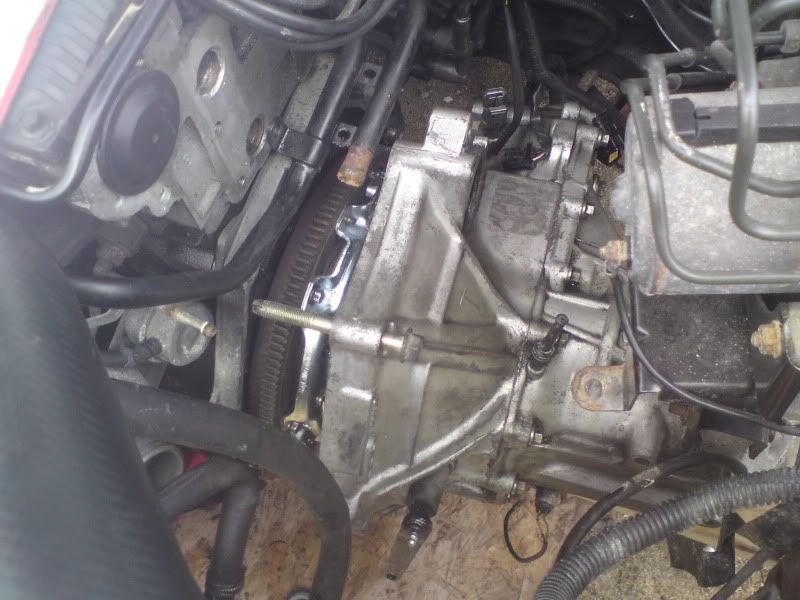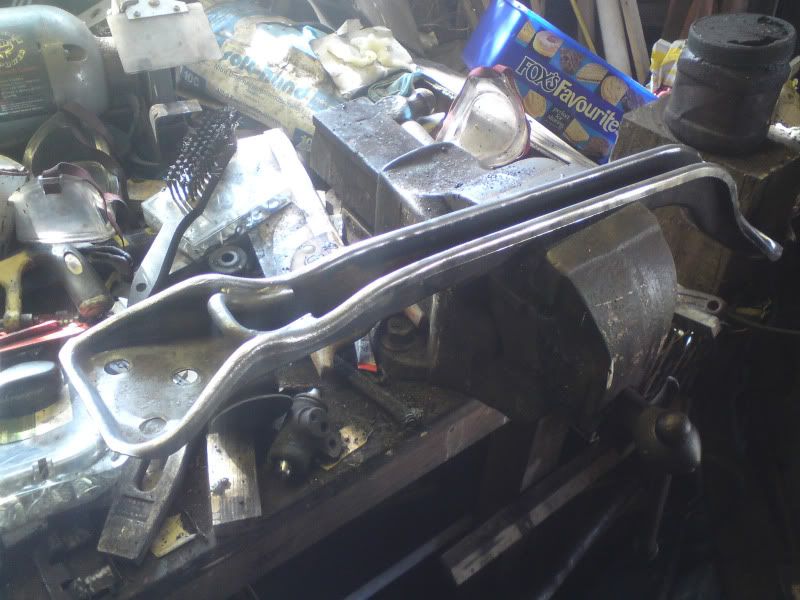 And finally, some help from a good friend!
After a couple of days of re-assembly, she was good to go. And boy, the car felt so much better! The OEM Valeo clutch I'd fitted felt amazing compared to the worn item removed (original, on 105k) and the bite was much more central on the pedal travel.
A quick spin around the block and I was happy the car felt OK, so I grabbed an armful of clothes and headed down to Cornwall.
The Cornish roads are perfectly matched to a 620ti - not so many sudden 'sharp' turns (the 600 is a heavy car, and you can feel it when tackling the tighter twisties) and lots of open road to use all 197bhp available. After a great week away with no hiccups, I returned back to work glad I'd done all of the work myself. I also waved goodbye to my 400 diesel around this time, a very sad moment as it was a lovely car.
'Braking' the bank, again!
This time, the 620ti attempted to be a little more inventive when 'spitting it's dummy out'. Rather than an obvious failure, I was greeted with a hardly-working handbrake and the distinct smell of something being very, very hot. A quick whip around the car after a journey to the shops and back revealed one of the rear discs was approximately the temperature of the Sun - sticking rear calipers are a common complaint on the Rover 600.
Not to worry, surely they just need a quick clean up. After all, how hard can it be? Very hard when the caliper is seized on to the point of no movement being possible, a pain as you have to unwind the piston from the caliper body. With the help of a very large screwdriver, some spinach and a large dose of 'man power' I had the piston out. The bore was lightly scored from the corrosion on the piston - how it managed to function in this state is beyond me. After polishing the scoring out and cleaning up the piston I reassembled, and then tackled the other side before it suffered a similar fate. The job itself wasn't too hard - the main challenge is putting the piston back in the caliper once you've cleaned it, as the rubber boot is tricky to refit.
Needless to say this incident cooked the rear pads, so replacement Mintex items were found. I also took this opportunity to reset the rear caliper adjusters (used for handbrake operation) and free these up with some penetrating oil. The handbrake was better than it had ever been - I could finally park on inclines without wondering if my pride and joy had rolled off down the hill of it's own accord into the village below.
The only issue I had upon refitting the rear calipers was the apparent introduction of air into the braking system - it took a good hour of bleeding to expel it all and get a good, firm brake pedal once again. For future reference, bleeding from the ABS unit is recommended as I managed to remove a lot of air this way.
Goodbye... for now!
Alas, the costs of running such a powerful car were starting to grate - not helped by the major work undertaken in the first couple of months of ownership. As per my other blog, I found a rather nice MG ZS TD for sale, and decided to make the move back to diesel in a bid to avoid having an economy crisis worse than Cyprus.
Little did I know it, but fate would bring us back together in the not so distant future...
To be continued
---
Share this post
---