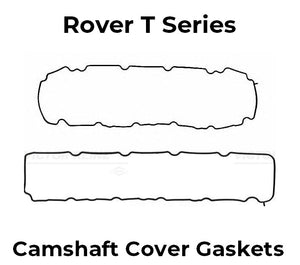 Rover T Series (inc Turbo) Camshaft Cover Gaskets - LVP100320 / LVP100170 / LVP100320SLP / LVP10006EVA
In stock. 
These are the Camshaft Cover Gaskets for all T Series engines, including Turbo applications. 

If you're unsure if you have the early or late T Series engine, please check both Camshaft Cover Gaskets you currently have fitted; early engines were produced until mid-1996 and had 1x LVP100170 (rubber) and 1x LVP10006EVA (metal) gasket fitted. 
The late engines were produced from mid-1996 until the end of the production and used 1x LVP100170 (rubber) and 1x LVP100320 (rubber) gaskets. 

Note: Some early cars used 2x metal gaskets - unfortunately the exhaust side gasket is unavailable for these applications. We recommend changing your Camshaft Cover to the late type and using LVP100170. 
Use the drop-down menu to select which gaskets you'd like - there are 5 options: 
- 1x LVP10006EVA (metal gasket, fits early cars only, inlet side) 
- 1x LVP100170 (rubber gasket, fits both early and late cars, exhaust side) 
- 1x LVP100320 (rubber gasket, fits late cars only, inlet side) 
- 1x Early Gasket Kit (includes LVP10006EVA and LVP100170)
- 1x Late Gasket Kit (includes LVP100320 and LVP100170) 
---
We Also Recommend