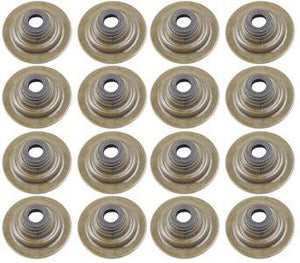 Rover K Series OEM-Q Valve Stem Seals - LUB100350. Pack of 16 or 24.
£17.91

£17.91

Save £-3.33
---
---
This item is always carried in stock for same-day dispatch. 
Valve Stem Seals for the Rover K Series Engine - Pack of 16 or 24 (K16 or KV6).
When replacing a head gasket or removing valves for any reason, replacing the valve stem seals is always recommended.
You can now purchase these stem seals for a fantastic price.
UK Made
List price: £2.46 per seal.
Fitting Guidance
When fitting Valve Stem Seals, always ensure all surfaces are clean and that any carbon deposits are removed from the valve stems. 
---
We Also Recommend