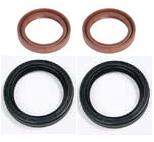 Rover K Series Camshaft Seals - OEM - LUC100220 / LUC100290 / LUC100150 (K4 and KV6)
This item is always carried in stock for same-day dispatch. 
Camshaft seals on the Rover K Series are generally quite tough, however if they've been damaged or mis-seated during a Head Gasket or Cambelt change they may need replacing.
Symptoms of leaking Camshaft seals are fairly obvious - oil will weep from the affected seal. It is recommended all 4 are replaced together.
Timing belt end (front) LUC100290 - Dark Brown / Black 
Gearbox end (rear) LUC100220 - Light Brown / Red 
These are made by an MG Rover OEM supplier - a top-quality item that'll last like the originals at a fantastic price. 
Stock location: DB6
---
We Also Recommend