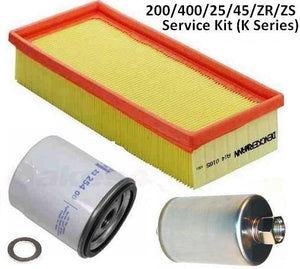 Rover K Series Service Kit - 200/400/25/45/ZR/ZS
This item is always carried in stock for same-day dispatch. 
This pack will allow you to change the oil filter, air filter and fuel filter on your Rover K Series engined MG-Rover.
There are 2 options for this kit - the 108mm wide Air Filter and the 118mm wide Air Filter. Read below to find which you have - you MUST select the correct type.
Fits 200/400/25/45/ZR/ZS models - simply add oil for a service.
You can now add a Fuel Filter and Spark Plugs using the drop-down menu and as a bolt on 5 litres of oil (you must add the relevant service kit first then add oil)
Includes:
Air filter - PHE100331 / PHE000121 - Mahle

Genuine Filtron

 

Oil filter - LPW100181 / LPW100180
The following vehicles use the 108mm wide Air Filter:
Rover 211 / 214 / 216 / 218 / 218Vi / 200 BRM
Rover 25 (All Petrol Models)
MG ZR - All EXCEPT ZR160
The following vehicles use the 118mm wide Air Filter:
Rover 200 (All Diesel Models)
Rover 25 (All Diesel Models)
MG ZR160 ONLY
Rover 414 / 416 / 420 (Petrol and Diesel Models)
Rover 45 (1.4 / 1.6 / 1.8 / 2.0TD)
MG ZS (1.6 / 1.8 / 2.0TD)
---
We Also Recommend