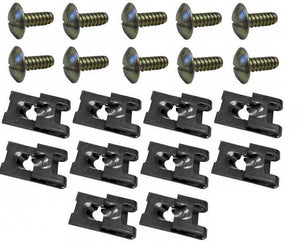 Rover 75 / MG ZT Ultimate Undertray Fixing Kit (Bolts and Clips) KZM000040 & KZM000050
In stock for same-day dispatch.

Hot product - over 1,000 kits sold!
Here we have a long-awaited item - a kit to re-secure your undertray using the tougher Land Rover clips and bolts. This kit contains 10x clips and 10x bolts (a 2x item kit is also available to replace a couple of missing bolts/clips). 
You can now add 10x Penny Washers to this kit - ideal if the mounting holes in your undertray are damaged. 
This is everything you need to make sure your undertray doesn't make an unscheduled departure - the MG Rover clips and bolts work out at around £30 plus postage from elsewhere. 
Available as 2x bolts and 2x clips if you need to replace a couple of missing items, or a full set of 10. 
---
We Also Recommend