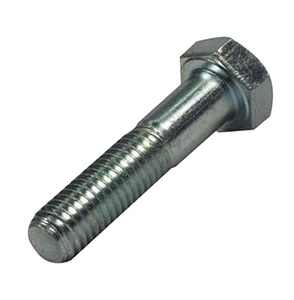 Rover 75 / MG ZT Rear Damper Lower Bolt (Dog Point) - RYG101331 / RYG101330
In stock. 
This is a replacement for the Dog Point Bolt RYG101331 / RYG101330 - the original part is unavailable, but we have replaced it with an equivalent part.
Rather than the flange head of the old bolt, this item has a 22mm ordinary hex head to compensate and is a direct replacement. 
The dog point from the end is also omitted, but this is only needed when fitting to new vehicles on the production line to push any swarf / debris / paint out of the fitting hole. 
This part is the correct 10.9 High Tensile rating, and has the correct part threaded construction. We recommend the use of thread locking compound with this part. 
IMPORTANT NOTE: Some early cars only have a partially-cut thread in the mounting hole for this bolt - if yours is partially threaded you need to use the 'short' option from the drop-down menu. 
Later cars (from 2003 onwards, but please check your individual car) have a fully-cut thread and can use the longer bolt we also stock. 
We recommend using the longer bolt on all models fitted with the rubber 'snubber' at the bottom of the Rear Damper (a donut-shaped damper fitted to later cars). 
---
We Also Recommend