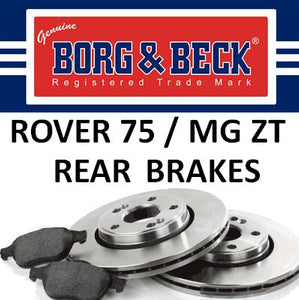 Rover 75 / MG ZT Rear Brakes - 1.8 / 1.8T / 2.0 CDT / 2.0 V6 / 2.5 V6 (Not 190) - SDB000870, SFS100190 and SFP100520
A quality set of Borg & Beck / OEM-Q Rear Brake Components for your Rover 75 / MG ZT. 
Simply use the drop-down menu to select the parts you need - you can purchase brake pads, brake discs, brake shoes and accessories as a kit or independently.
If your brake warning light has illuminated, you'll need to purchase a Wear Sensor. These are available from the drop-down menu above. 
The Brake Discs are our own OEM-Q item, the Brake Pads are Borg & Beck and the Brake Shoes are Genuine MG. 
You can now purchase a set of new Springs and Pins for the handbrake shoes: click here.
NB: Brake pads are sold as an axle set (including both LH and RH) - so you only need to order one set per vehicle. 

Clean sliders when fitting - if pitted / damaged these must be replaced.
Search part number SEE100250 to add to cart.

Stock locations: 
Wear sensor - GD4
---
We Also Recommend