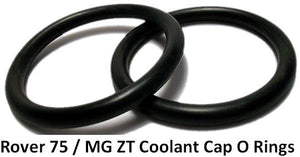 Rover 75 / MG ZT Coolant Cap O Rings - Viton. To fix ESR1480
If your coolant cap isn't sealing properly due to perished or damaged O rings, this kit is ideal for you.
A very simple fix taking less than 5 minutes - and less than half the price of a new cap. Simply remove your cap, use the tip of a knife to carefully pop your old O rings from their retaining groove, and replace with these new Viton items. 
---
We Also Recommend