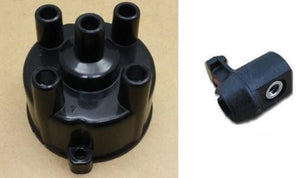 Rotor Arm and Distributor Cap Kit - K & T Series (100/200/400/MGF) NJD10010 & NJE10003 / NJE100070 / NJE100071 - Lucas
This item is always carried in stock for same-day dispatch. 
Kill 2 birds with one stone - replace both your Distributor Cap and Rotor Arm with this value-for-money kit.
These are top-quality parts made by Lucas - an OE supplier to MG Rover. 
Using only premium quality components from top manufacturers, we guarantee all of our ignition components will provide reliable service for years to come.
Part number - NJD10010 (Cap) and NJE10003 / NJE100070 / NJE100071 (Arm).
Fits both K Series (early, before the 2 coil pack and 2 HT lead system was used) and T Series engines (without the 'wasted spark' system). 
List price: ~£35
---
We Also Recommend