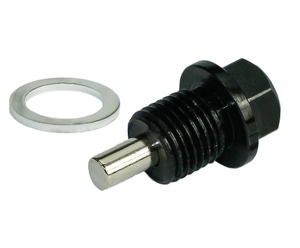 Magnetic Sump Plug & 5x Washers - All Models (25 45 75 ZR ZS ZT MGF MGTF) LSF100040 & ALU1403
In stock. 
Help keep your engine oil in tip-top condition with a magnetic Sump Plug - this will pull ferrous contaminants from the oil, and hold onto them until the plug is removed and cleaned. 
Ideal for all K Series, L Series, KV6, T Series and M47R engined-vehciles. 
Fits all MG Rover vehicles apart from the Rover 75 V8 and MG ZT260 from 1995-2005. 
We do have Magnetic Sump Plugs for the Rover 75 V8 and MG ZT260 available - please use the 'search' function. 
Colour may vary. 
Please note these should be torqued slightly less than the original item due to their aluminium body construction. 
Includes 5x Sump Washers. 
Part number: LSF100040MAG
---
We Also Recommend