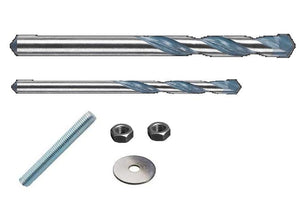 L Series (Diesel) Locking Pins and Tensioner Wind-back Kit (200/400/600/25/45/ZR/ZS)
This item is always carried in stock for same-day dispatch. 
After a few requests, I've put together a kit to make an L Series cambelt change that little bit easier.
I've done several belt changes without the aid of this kit, however when using the locking pins and windback tool the job is a lot easier.
This kit includes:
6.75mm crankshaft locking pin
9.5mm fuel pump locking pin
M6 Threaded bar (100mm) to insert into tensioner
Nuts and washers used to wind the tensioner out
The main reason the pins are used is to reset the pump timing to ensure quick starting, to make sure the timing is 100% spot on, and also to ease removal and refitting of the crankshaft pulley bolt. This is usually incredibly tight, however with a locking pin the job is much easier.
Fitment

Rover 25 Diesel
Rover 45 Diesel
Rover 600 Diesel
Rover 200 Diesel (95 on)
Rover 400 Diesel (95 on)
MG ZR Diesel
MG ZS Diesel
Streetwise Diesel

Part number 
WBK1
Notes


Stock location
TBC
---
We Also Recommend