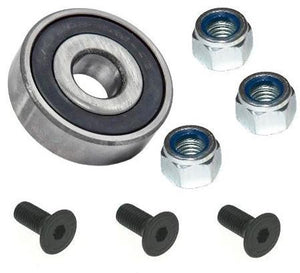 L Series Aux Tensioner / A/C Idler Bearing Repair Kit (PQR101000 / PQG100230)
This item is always carried in stock for same-day dispatch. 
Is the bearing on your Auxiliary Belt Tensioner grumbling, or have you noticed an odd noise coming from the Auxiliary Belt Idler on your non Air Con Rover 25 / MG ZR?
If you have either of these issues, you would usually just replace the entire tensioner / idler assembly. However there is now an affordable solution for the DIY car repairer!
This kit includes a brand new (branded) 6203 2RS bearing as used in both of these items, along with 3x M4 screws and 3x Nyloc nuts.
In the case of the auxiliary belt tensioner, you need to drill out the 3 rivets on the pulley face. Once you have done this, use a screwdriver to split it into 2 halves. Then simply insert the new bearing, and fit the 3x nuts and bolts included (bolt heads facing the engine to avoid fouling the tensioner body).
For the non A/C idler, you simply need to press / drift the old bearing out, and then insert the new bearing in it's place. No bolts required.
As the RRP for the tensioner is around £50 and the RRP for the idler is around £65, massive savings can be had via this kit and an hour of your time. 
---
We Also Recommend