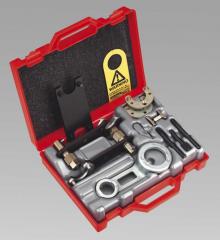 KV6 Timing Tool Kit - Rental (inc ZT190 Camshaft Locking Adaptors)
We now offer a rental service for KV6 Timing Tools - please read the description carefully to make sure you are familiar with the length of rental and terms. 
*Please note the rental itself is £49.99 and the deposit is £150 - you will be refunded £150 on return of the kit* 
KV6 Timing Tools are expensive to buy - save the financial pain and rent an authenic Sealey kit for a fraction of the price new!
Please note - this kit now includes the Locking Adaptor Set for the ZT190 engine - these are different to the rest of the KV6 range, and you'll need these Locking Adaptors if you have a ZT190 or ZT180 (Sports Auto). 
Most kits don't include these, but our Rental Kit comes with these as standard. 
You will have 2 weeks from the day of delivery to use the kit and post it back to us.
The 2 weeks starts on the day of receipt, and ends on the date the kit is received back at our warehouse. 
There is a £10 daily charge for any additional days rental, as we have to plan the rental of these kits in advance. 
Once we receive the kit back, we'll refund the deposit to you in full providing the kit is returned complete and in good condition. 
Please note any missing parts will be deducted from the deposit; replacement parts are quite expensive so please take care when using this kit. 
Included parts: 
T40011 - Cambelt Tensioner Locking Pin

12 196
18G 1747
LRT 12 196 - Camshaft Locking Tools (2)

12 187
LRT 12 187 - Camshaft Locking Tool Adaptor (2) 2.0 Litre

18G 1747 2 - Camshaft Locking Tool Adaptor (2) 2.5 Litre

12 232
18G 1747 5
LRT 12 232 - Crankshaft Locking Pin

12 175
LRT 12 175 - Rear Camshaft Sprocket Setting Tool

18G 1747 1
303 973
LRT 12 195 - Rear Camshaft Sprocket Spreader

12 175
303 986
LRT 12 175 - Rear Camshaft Sprocket Holding Tool

12 198
18G 1746A
303 989
LRT 12 198 - Rear Camsnaft Sprocket Guide Pin


---
We Also Recommend