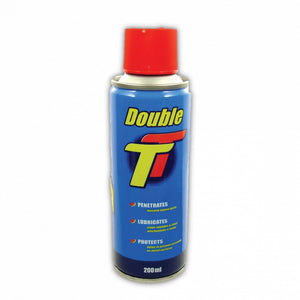 Double TT DTT200 Maintenance Spray / Penetrating Oil Aerosol 200ml
In stock. 
This is a top-quality Maintenance Spray / Penetrating Oil ideal for freeing off stuck nuts, bolts, cleaning up dirty threads and much more! 
We use this in our own workshop - it's a great addition to every MG Rover owner's toolbox.
Double TT Maintenance Fluid deeply penetrates element connections in order to unblock considerable dirt, remove unwanted moisture, protect against rusting and remove squeaks by lubricating moving parts. Double TT not only protects moving elements, screws, cables and linkages against corrosion, but also removes pencil, gum and glue marks from most sufaces.
---
We Also Recommend