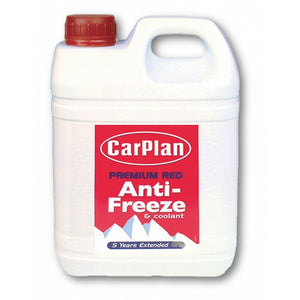 CarPlan OAT Antifreeze / Coolant - 2L - Concentrated. FSA002
This item is always carried in stock for same-day dispatch. 
CarPlan OAT Antifreeze / Coolant meets the MG Rover OAT specification - suitable for all post-1995 MG Rover vehicles. 
OAT Antifreeze gives your cooling system 5 years of protection - after this the anti-corrosion properties of the coolant will start to wane. 
If you're not sure when your antifreeze was last changed, we recommend performing a coolant flush and change as soon as possible. 
Antifreeze in the correct concentration not only stops the system freezing in winter, but also raises the boiling point of the coolant - if too weak you may find your coolant levels drop especially in high-temperature / high-load situations. 
Finally, antifreeze is essential for protecting internal engine components from corrosion - with all of the MG Rover engine range having a significant amount of steel / iron in contact with the cooling circuit this is critical for long-term reliability.
Dilution recommendations: 
- 25% Antifreeze to 75% water (general UK conditions)
- 33% Antifreeze to 67% water (severe UK winter conditions)
- 50% Antifreeze to 50% water (for protection down to -36 °C)
We also have a 1L container of this available - please search for product code 'FSA001' in the search box above. 
---
We Also Recommend