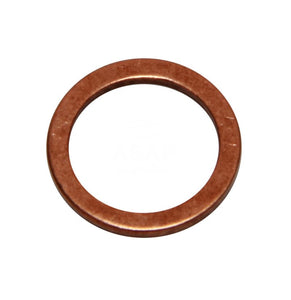 Brake Caliper Banjo Bolt Sealing Washer - Copper - DJP5822
In stock. 
This is the Copper Washer used when fitting new Brake Hoses or Brake Calipers. 
You will need 2 per caliper (one sits either side of the banjo bolt). 
These are the proper copper item which will seal perfectly every time - for the price it's always worth changing these when the banjo bolt is removed. 
Note: We stock a full range of Brake Calipers for most models - and these include this part when needed!  Check out our range. 
 Fitment
Rover 25 - All - Front and Rear
Rover 45 - All - Front and Rear
MG ZR - All - Front and Rear
MG ZS - All - Front and Rear
MGF - All - Front and Rear
MG TF - All - Front and Rear
Manufacturer
DMGRS OEM-Q, Made in the UK
Notes
Clean up all mating surfaces before fitting to ensure a good seal
Stock location 
TBC
---
We Also Recommend