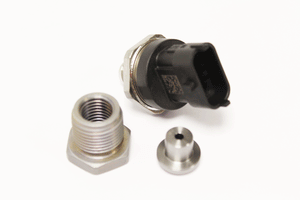 BOSCH Rover 75 / MG ZT Diesel Fuel Rail Pressure Sensor STC4769A (CDT / CDTi)
In stock. 
Fuel Rail Pressure Sensor for the Rover 75 / MG ZT Diesel (all models / variants) - this is commonly replaced to resolve issues with starting, rough running or cutting out when driving. 
Please use diagnostic tools to pinpoint this sensor as the cause of any issues you are having - there's a few other faults which can cause the same symptoms as a faulty Fuel Rail Pressure Sensor (worn injectors and faulty Fuel Pressure Regulator seals being the common culprits). 
Genuine BOSCH part, made in Germany. 
---
We Also Recommend