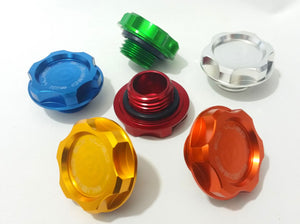 Aluminium Oil Cap - 25 / 45 / ZR / ZS (All Engines) 75 / ZT (1.8 and KV6 only) - Various Colours
In stock.
These are Aluminium Oil Caps for all Rover K Series, KV6, T16 and L Series engines - does not fit the M47R Diesel engine fitted to the 75 / ZT. 
An absolutely fantastic way to 'bling up' your engine bay for minimal outlay - made of CNC machined aluminium for maximum lifespan. 
Use the drop down menu to select the colour you wish.
These are part of a range that includes Aluminium Oil Caps, Coolant Cap Covers, PAS Cap Covers, Dipstick Handles, Wing / Bumper Washer Kits and more!
View the 'Performance and Visual Modifications' category to see them all. 
---
We Also Recommend