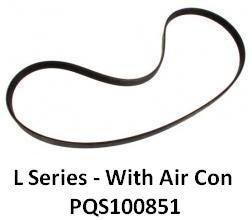 Rover L Series Auxiliary Belt (With AC) - PQS100851 - Dayco
This item is always carried in stock for same-day dispatch. 
Original Dayco Rover L Series Auxiliary Drive Belt, for cars with Air Conditioning fitted.

Fits the 200/400/600/25/45/ZR/ZS diesel models.
IMPORTANT - The 25/45/ZR/ZS models without Air Conditioning use the same belt as the models WITH Air Conditioning - Part Number PQS100851.
MG Rover used an idler pulley in place of the Air Conditioning pump on these models.
List price: ~£22
---
We Also Recommend