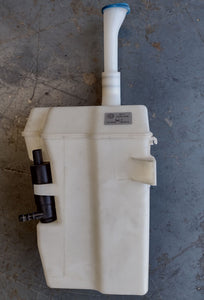 Rover 75 / ZT Washer Bottle with / without Headlamp Wash - DMB103030 / DMB103040 / DMB102800 - Genuine MG
In stock. 

Brand new Washer Bottles for the Rover 75 / MG ZT - all models (apart from 1.8 Turbo Automatic and V8 models)
These fit models both with and without Headlamp Washers - if you have Headlamp Washers you'll need to drill the hole for the pump to fit through (this is marked on the bottle, just not drilled - the clip is present however). 
Does not include any pumps, please add these from the listings here if needed: https://www.dmgrs.co.uk/search?type=product&q=75+washer+pump 
If ordering a washer pump, please also add the filter grommet DMJ000020 from the link above. 
 Fitment

Rover 75 - All except 1.8T Auto and V8
MG ZT - All except 1.8T Auto and V8

Manufacturer
Genuine MG
Notes

Does not include pumps. Fits models with and without headlamp washers.

Stock location
HH4
---
We Also Recommend