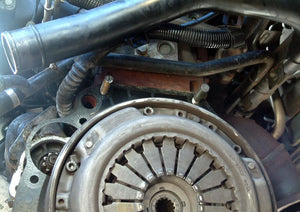 75/ZT Clutch Kits including fitting at our workshop - Southport, NW England
From £459.99 for Diesel models and £499.99 for Petrol models. 
Please email sales@dmgrs.co.uk for a quote, rather than purchasing through the Shop.
We are pleased to offer a fitting service for our excellent Borg & Beck clutch kits at our workshop in North West England.
You'll need to either drive the car or have it recovered to us, however you'll benefit from full workshop facilities, a team who have done many clutch changes on the 75/ZT and also a nearby town centre to explore while the work is done. 
To book this service, please email sales@dmgrs.co.uk with details of when you'd like to attend for fitment. Fitting usually takes around 6 hours, however if problems are encountered (seized bolts, other broken parts) this may take longer and additional parts may be required. 
The clutches we fit are the Borg & Beck items, and the price quoted also includes a new Concentric Slave Cylinder and a fluid flush to clean any old contaminated fluid from the system. 
We strongly recommend having the Master Cylinder changed at the same time - they are prone to failing shortly after a clutch change. We do not warrant your existing Master Cylinder for this reason, although of course a new Master Cylinder is fully warranted.
The Master Cylinders we fit are the all-metal Tazu items. These are available for £155 fitted at the same time as your new clutch. 
Say goodbye to expensive clutch changes - with prices starting at £459.99 we're helping to bring the cost of owning a 75/ZT down to the level of much 'cheaper' cars!
Appointments for fitting are usually available within 48 hours notice, and can be made up to 4 weeks in advance. 
Please email sales@dmgrs.co.uk to quote, book in and arrange payment for this service. 
---
We Also Recommend