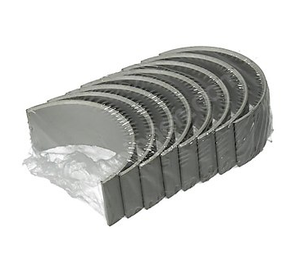 K Series 1.8 Big End Bearings - LFB000150 - (inc Turbo) - LFB00015010 / LFB00015020 / LFB00015030
In stock. 
Big End Bearings for the 1.8L K Series (inc Turbo) - LFB000150. 
Supplied and priced individually - please order 8 for a full engine set. 
Use the drop-down menu to add the specifications you need to your cart. 
If you're unsure or are using a new crank, use .20 (red). 
If you're replacing existing bearings on a used crank, use our table below to work out which bearings you need. 
These are a top-quality item sourced from a trusted UK supplier and sold under our OEM-Q brand. 
Need to calculate which bearings you need? Use our handy table below to help! 
Bear in mind that on higher mileage engines, the crank may have worn slightly - however the clearances below will usually still be correct and work well. 

On your connecting rod bearing cap you'll find a 3-digit code - you need the first digit of this (the size) which will be 5, 6 or 7. 
Next you'll need the 4 letter code stamped on the flywheel end of the crankshaft - for example ABCB. 
In this example, 'A' is closest to the timing belt working through to the flywheel end of the crankshaft with the second 'B'. 

Where two colours are specified, the thicker shell should be fitted to the bearing cap. 
| | | | |
| --- | --- | --- | --- |
| | A | B | C |
| 5 | Blue-Blue | Red-Blue | Red-Red |
| 6 | Blue-Yellow | Blue-Blue | Red-Blue |
| 7 | Yellow-Yellow | Blue-Yellow | Blue-Blue |
---
We Also Recommend